Immerse UK Speed Networking - in partnership with Ogilvy & Mather
Event details
Tuesday, 28 November 2017 at 10:00 am
London, United Kingdom
Google Maps
Overview
Speed networking connecting immersive tech SMEs and large brands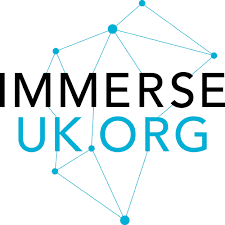 Are you an SME working in immersive tech? Would you be interested in discussing your ideas, technologies and solutions with cutting edge companies in this space?
If the answer is "yes" then our forthcoming speed networking event organised by Knowledge Transfer Network (KTN) in partnership with Ogilvy & Mather could be for you.
In the spirit of 'open innovation', discussing your ideas with each of one them could be of excellent potential benefit either now, or in the future.
This session will enable you to explore these opportunities in more detail.
If you want the opportunity to meet these leading companies, please register your interest now and save the date for a chance to be selected.
Successful SME applicants will be contacted in plenty of time to prepare for the event with further information.
Important date: Deadline for Expression of Interest is Friday, 17 November 2017 by 17:00.
We will contact you after this date to notify if you have been selected to participate and offered a place.