Q&A Webinar 1: Audience of The Future Production in Immersive Content
Event details
Friday, 9 November 2018
11:30 am – 13:00 pm
This event will be live streamed via webcast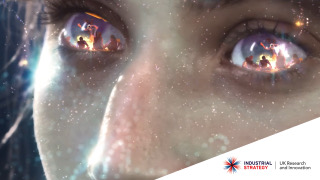 Webinar Q&A Session:
To support applicants who may have questions that were not covered in the recorded webcast briefing session provided on 18 October, we will be running two webinars in November.
These webinars are intended for companies who are in the process of preparing or completing applications and will aim to provide responses to more in-depth questions regarding the application process.
Some of the queries or questions people may have will be covered in the webcast referred to above, or in the FAQ which will be issued shortly and updated on a regular basis.  Please consult both of these before signing up to one of these webinars.
Dates:
Webinar 1: 09 November 2018 @ 11:30 a.m.
Webinar 2: 16 November 2018 @ 11:30 a.m.
Background: Audience of The Future Production in Immersive Content
The £33m ISCF Audience of the Future Challenge offers support to innovators, researchers, creators and technologists to create new products and services by adopting, exploiting and developing immersive technologies. October 1st sees the launch of the next phase of the Audience of the Future Challenge with a new R&D fund "Production Innovation for Immersive Content". Up to £8m is available for business-led R&D projects that enable immersive content to be created faster, more efficiently or in new ways and which improve significantly on the current 'state of the art' in the field.
Lowering the cost of this content and expanding the ways in which it can be experienced will help UK businesses, especially SMEs, to flourish and maintain the UK's position as a global creative powerhouse.
The competition is open to all UK creative industry organisations working with immersive technologies. Single company projects can receive up to £250,000, and collaborative projects up to £1million. All proposals must involve at least one UK-based SME but universities and research organisations can be part of consortia bids. Proposals must include at least one participant who is a content creator, and must develop tools, products or services for creating and delivering immersive content.